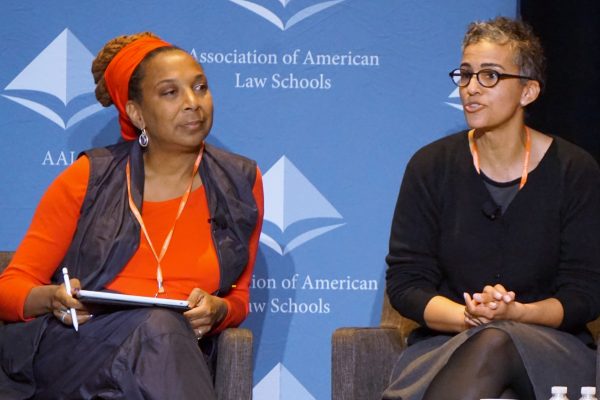 But her work did, in fact, have immediate reverberations within the legal academy. And everything that followed over the next 30 years made Crenshaw one of the most influential feminists and lawyers in history.
It is impossible to separate Professor Crenshaw's incredible contributions to legal education and the law from the unusual context that now surrounds them. Crenshaw is in a truly singular position.
Both of the academic concepts she is best known for have traveled outside of scholarly circles, entered the mainstream consciousness, and become our everyday language. In the case of intersectionality, the adoption has been relatively seamless. Even outside the context of legal scholarship, viewing the world through a prism of overlapping and compounding identities is a relevant and useful tool.
The same cannot be said for critical race theory. In a catastrophic echo of the ways her thinking originally diverged from some of her contemporaries, the phrase has become catch-all shorthand for those who claim that talking about race at all is, in itself, racist.
"It's being lumped in with all of these stories, some of which are apocryphal, into a moral panic."
The demonization began in earnest as a direct result of the June 2020 uprising against police-perpetrated racist violence. Lest multiple months of agitation lead to any progress toward dismantling institutionalized white supremacy, in September 2020, then-President Trump issued an executive order banning federal agencies from conducting diversity and inclusion trainings. The order claimed these trainings were "divisive, anti-American propaganda" and specifically cited intersectionality and critical race theory as problematic terms.
Though President Biden's administration rescinded the order almost immediately upon taking office the following January, the damage was done. By early 2021, politicians and pundits nationwide and beyond had latched onto the words and initiated a concerted, focused effort to censor them. A wave of backlash swept through every level of American education, from kindergarten to university. Parents, incited equally by misguided anger and manufactured panic, forced their way into school business to ensure their children were not being taught critical race theory. Legislatures aggressively pursued options to enact bans at state and local levels. Educators faced serious consequences for using teaching materials that fell outside a set of narrowly-defined parameters.
Shortly after the November 2021 elections, the Virginia gubernatorial race was fresh in Professor Crenshaw's mind. Republican candidate Glenn Youngkin had—very publicly—denounced critical race theory and galvanized his supporters to crowd their local school board meetings as they sought to outlaw the concept—and, by association, any teaching or investigation of race whatsoever—from school curricula. An escalating series of protests ended with actual fistfights mere days before the election. Then, Youngkin won.
Why is this happening, and is there any use in attempting to set the record straight? "I am asked this question every day," Crenshaw says. "And every day I have a different answer because it's a developing story."
Whereas intersectionality "escaped the law" two decades ago and traveled far and wide to become a commonly-used concept in multiple other disciplines, critical race theory did not. "It became popularized," Crenshaw says, "because critics wanted to use it to stoke fear and division. When an idea travels not because people are engaging with the ideas but because they are trying to appropriate the geography and repopulate it with their own ideas, then you have trouble."
"It's not as if I can just go clear this up, or even have a debate. Critical race theory is a prism and a set of questions to be asked and applied to a wide variety of contexts. The current crisis is not an engagement of ideas. It's an effort to attach a term that people don't know about to fears that they are fully in touch with."
"It's using a legislative approach to shut down both subject matters and viewpoints about those subject matters…that's not free thinking. That's not inquiry. That's about power."
Crenshaw now occupies two worlds: one in which public outcry is at a fever pitch, and one in which academic and good-faith engagement with critical race theory has also never been higher. For the last two summers, the Policy Forum has sponsored a critical race theory summer school consisting of five days of intense course work applied to and across a range of issues. The course is not limited to academics, and accepts students from all walks of life.
"It's a new frontier," she says. "Now [critical race theory is] the thing that cannot be spoken about…it makes people want to know what it is. That has been energizing. A new generation of critical race theorists has come out of this moment."
On the other hand, on a personal level: "I don't think there are many people in the academy who are being positioned in the political culture as spelling the end of civilization as we know it," she says. "It's almost like watching a crazy movie… Can people totally make up a universe and position other people in it? That part is without a script for how to experience it."
She worries that the academy writ large is not giving serious attention to the significance of politics being allowed to dictate what fields of study are permissible and which are forbidden. There is no reason to believe that what is happening to Professor Crenshaw and to critical race theory will end there. To her, it represents a significant threat to democracy.
"It's no accident that in a period of time when our democracy is on the ropes, our freedom to think and articulate the many ways in which our realities around race fall far afield from the promises of democracy [is censored]… The weaknesses of our democracy are made that way in part because of racial injustice, and our inability to move as fully as we want against racial injustice is grounded in the ways in which our democracy is incomplete. This is all coming to bear right now."
She is understandably concerned that racial justice work may experience a chilling effect, as newer scholars see her school of thought suddenly decried as unamerican and dangerous. Backlash against social progress, she pointed out, is not a new phenomenon, and it doesn't move on quickly. Reconstruction, for example, was followed by a century of backsliding.
"When people think this moment is limited to one school of thought, I just think: Is that what people thought in 1876?" After all, Reconstruction failed not because those against it had any spectacular drive or political might; rather, those for it simply failed to act.
Professor Crenshaw's contributions to the way we talk about and understand social justice issues cannot be overstated. She has shaped and expanded our global understanding of oppression and structures of power, and our reckoning with racial and police violence. She represents a lifeline for many people inside academia and out; she is the person who first provided a framework and a language to talk about their daily experiences. But the chaos of our current political context can make it difficult to keep the positives at the forefront.
"I wonder if a lot of people are just thinking 'wow, I'm glad I'm not her right now!'" she says. "I get a lot of people who give a thumbs up and say hang in there."
You might expect that the recipient of a lifetime achievement award would be receiving such an honor because they consider their lifetime of achievements to be more or less at a natural stopping point. Professor Crenshaw has already produced more than a lifetime's worth of work. She has already had more than a lifetime's worth of impact. But by no means is she at the end of her career.
As more jurisdictions enact bans on teaching and materials that refer to critical race theory, Professor Crenshaw's work has shifted toward supporting educators and communities affected by this censorship. "You don't learn this in law school or as a young academic. It's uncharted terrain."
She would also like to see the legal academy continue to take diversification seriously. "This is where I need to dig deep for encouragement," she admits. "I don't want this to be the high point [of efforts] to create a professoriate that looks more like the communities in which we live.
"I want doors to be consistently and continuously pried open. In my mind, that means a constant interrogation about the ways that legal education as an institution contributes to its demographic profile, and how to undo that… I got my start as a young law student asking why our faculty looked the way it did. I hope students today are able to express the same skepticism and hope that we can put thought into action to shape the professoriate of tomorrow."
Kimberlé Crenshaw's impact on the legal academy and beyond, on the professoriate of today and tomorrow, and on feminism and racial justice work itself, is absolutely undeniable. It is best illustrated by the words of those she has influenced, both directly and indirectly.
Dean Onwuachi-Willig, who nominated Professor Crenshaw for the Triennial Award, summed it up: "Professor Crenshaw is incredibly deserving of this honor because of her contributions to legal scholarship; to diversity in the legal academy through her inspiration and mentoring of many faculty of color, especially women of color; and her contributions to the legal curriculum."
In support of her nomination, Dean Onwuachi-Willig compiled pages of similar stories.
From Professor Ann Thomas (New York Law School): "Injustices cannot be addressed until they are made visible. Crenshaw makes the oppression of Black women visible. Through her activism she challenges us in real time to make our society more just and more equitable."
From Professor Shaakirah Sanders (University of Idaho College of Law): "No other living legal academic is as a pioneering scholar and writer on civil rights [and] critical race theory… Whether she knows it or not, Professor Crenshaw's theory of intersectionality validates every woman of color on the globe. This theory now validates every queer person."
From Professor Wendy Greene (Drexel University Thomas R. Kline School of Law): "Professor Crenshaw is a global force for social and legal change… Without her courageous voice, I would not have fully embraced the possibility and necessity of situating Black women at the center of not only my legal scholarship and activism but also human rights advocacy and movements."
From Dean Kimberly Mutcherson (Rutgers Law School): "I learned the term intersectionality from [Professor Crenshaw], and it literally gave me language to think about the complexities of my life and lived experience in more sophisticated ways… She has taught an entire generation of feminists that we must refuse to engage in scholarly work or movements that demand that Black women flatten or ignore our own experiences in order to placate others."
From Professor Khiara Bridges (University of California, Berkeley School of Law): "Kim Crenshaw has given us a vocabulary that not only describes black women's experiences in the law, but black women's experiences in the world. When I first encountered Crenshaw's work as a 2L in law school, I felt seen. I felt recognized. And I felt empowered to insist upon my visibility and the visibility of others who exist at the intersections."
And from Professor Mari Matsuda (University of Hawai'i William S. Richardson School of Law): "Professor Crenshaw has pushed other scholars forward, challenging their ideas, and creating a platform for them. I know my own work and career would not have succeeded without this kind of intellectual community… Like Justice Ginsburg, Professor Crenshaw will look back at the end of her career and be able to say: women's bodies are safer, women's lives are better, women are taken seriously because of the work I did."
While we all stand on the shoulders of giants, we rarely get to walk alongside them. Kimberlé Crenshaw is one such figure, whose life and light we are privileged to witness. The impact of her cultivation of community, of her support and mentorship, of her shining and steadfast example, is immeasurable. The Association is proud to add Professor Crenshaw to the "Law Professors Hall of Fame," and to award her our highest honor.