Borrowing from Bob Dylan, "The Times They Are a-Changin'"
By AALS President Paul Marcus, Haynes Professor of Law, William & Mary Law School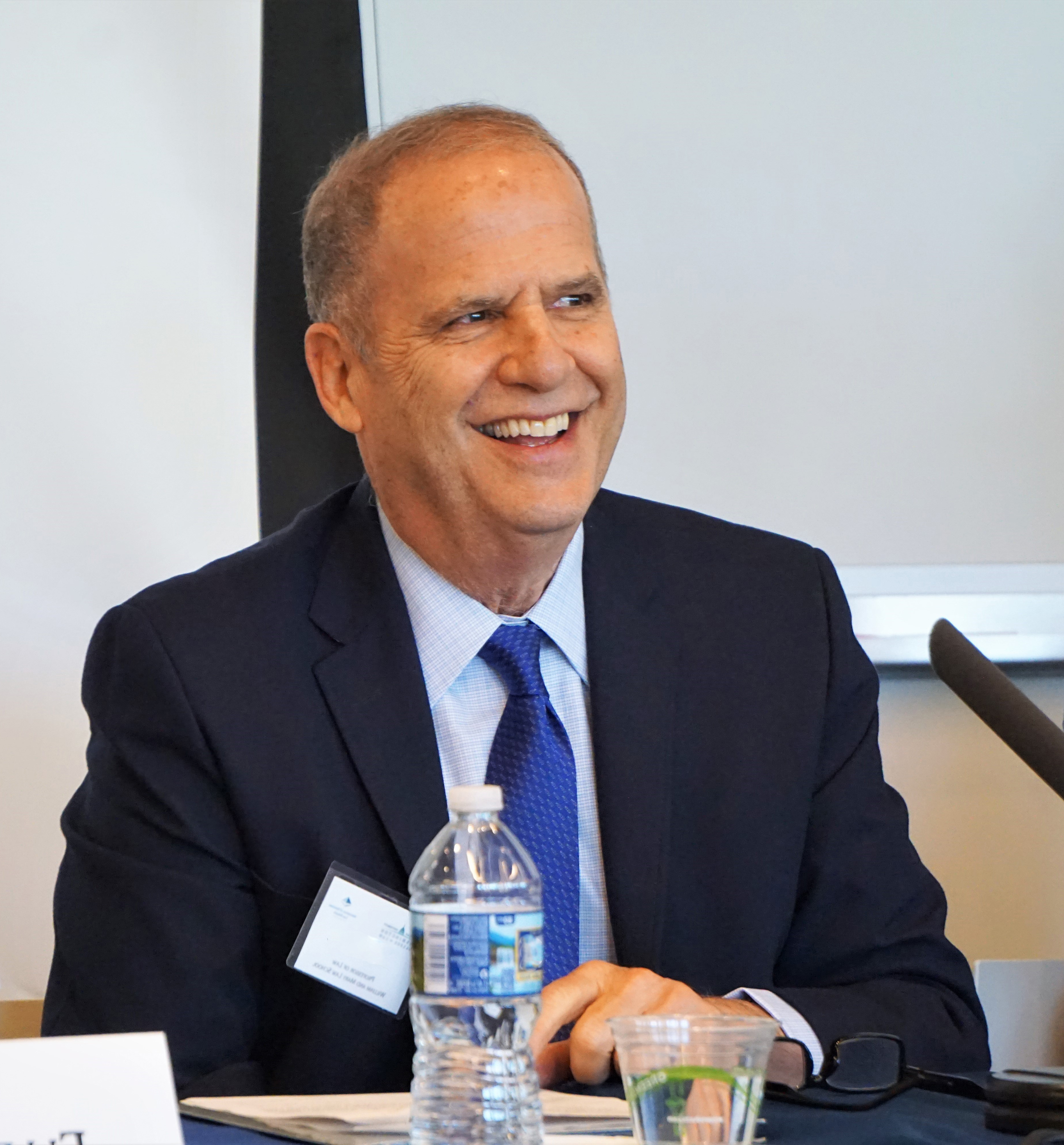 For the past decade or two, we have seen tremendous changes in U.S. higher education in general, and legal education in particular. There have been amazing highs involving giant leaps forward with clinical and experiential learning, outreach for international and comparative studies, closer connections to the practicing bar and the judiciary, and innovative interdisciplinary programs. At the same time, the lows have been low indeed: strong reliance on rankings, heavy student debt loads, declining bar pass rates, and a shrinking applicant pool. For this issue of AALS News, I am doing something different from the usual presidential essay. I have asked five wonderful legal educators to share their thoughts on specific areas of American legal education, as those areas have changed in recent years. Each contributor is a national figure who has made significant contributions to the high quality of our system.
Barbara A. Bintliff, Joseph C. Hutcheson Professor in Law and Director, Tarlton Law Library/Jamail Center for Legal Research at the University of Texas School of Law.
Susan L. Krinsky, Associate Dean for Student Affairs and Communications at the University of Maryland Francis King Carey School of Law and Immediate-Past Chair of the Board of Trustees of the Law School Admission Council.
Katherine Kruse, Associate Dean for Academic Affairs and Professor of Law at the Mitchell/Hamline School of Law.
Vincent D. Rougeau, Dean at Boston College Law School and member of the AALS Executive Committee.
Kellye Y. Testy, President of the Law School Admission Council and AALS Immediate Past President.
Barbara A. Bintliff: Library
Barbara Bintliff, Joseph C. Hutcheson Professor in Law and Director, Tarlton Law Library/Jamail Center for Legal Research at the University of Texas School of Law
The law school library used to be a destination, a "place," with students and faculty sitting at long rows of desks, poring over print indexes and digests and gathering stacks of reporters and journals in search of "the law." This kind of library use was a shared—and likely universal—experience of students and faculty. Generations of lawyers experienced hours of book-based library research as part of their legal education. The quest for the law was aided by law librarians, who searched Pimsleur's checklist, the MoCat, Bieber's abbreviations, Julius Marke's NYU catalog, the NUC, and other then-indispensable reference tools for needed information.
And so it was when I entered law librarianship. Computers, online catalogs, and Westlaw and Lexis were barely beginning to be available to the mass market. Only those on the cutting edge dreamed about the kind of database content we have today. Libraries were typically early adopters of technology, often being the first department in a law school that automated operations and used databases. And as soon as the hardware entered the library, the nature of law libraries began changing.
Issues regarding managing technology and the rapidly increasing volume of electronic publications and resources took center stage, dominating the discussion in individual libraries and across law schools. The questions raised were huge, complex, and interrelated: Must we offer resources in both print and electronic formats? Can we afford to do so? Should we spend our money on databases that we license but don't own? Can we trust that the databases will be available permanently? Are we concerned that information found in a print search is different from that found in an electronic search, or that two search engines provide different results with the same search? Is it possible to have an all-electronic library? Why do we have to license this whole bundle of e-journals when we only want one or two? How do we teach electronic legal research? Should we still teach print research? How do we organize and describe electronic resources in our catalog? What new services can we develop to better meet information needs? Does copyright allow print materials to be digitized? Is it a violation of copyright to provide print copies of electronic resources to others via interlibrary loan? How can we continue to ensure student and faculty confidentiality in their use of library resources? Should we reconfigure the library facility to accommodate computers and other technologies?
It seemed like the questions were never-ending, coming from all directions: the library itself, vendors, students, faculty, and law school and university administration, among others. I feel like my job started evolving the day I walked in the library door, and it hasn't settled down yet!
Every academic law library has considered these questions, and most have concluded that there is no single right answer. In fact, most law libraries have realized that, just as there is no single right answer to the questions, there often is no firm answer and each law library will have different results, depending on the local situation. What worked in 1985 was likely hopelessly outdated by 1998, and the solutions for 1998 have become creaky antiques by 2017. The individual law library's and law school's programs, preferences, and priorities determine how the library proceeds. Changes to Lexis and Westlaw access provide great examples of the need for continual consideration of a question, the question being "how can the legal research services be best made available to library users?" When first introduced in the late 1970s, dedicated terminals for Lexis and Westlaw were kept in a locked room. Passwords were secret, available only to librarians who often did all the searching—library users could not be trusted! By the 1990s, there was enough demand for access that everyone in the law school community had a personal password and libraries had Westlaw and Lexis terminals throughout their facilities. Today, the system-specific terminals are gone and personalized access is available on desktops, laptops, tablets, and cellphones. Library practices, information availability, and vendor licensing terms have evolved throughout this period, causing reconsideration of already answered questions.
What is certain, however, is that the law library is no longer only a place. Law libraries are also portals, providing information in a variety of formats directly to faculty and students. Many times today, however, neither students nor faculty regularly come to the "place" of the library to engage in research or prepare for classes; remote access to electronic information sources suffices. No one would argue that we should abandon electronic resources and return to the print research experience of generations past, but has the law school community lost some of the connection created by consulting resources in a shared space? Is that the ultimate effect on the law school of the many changes in law libraries over the last decades?
Susan Krinsky: Students
Susan L. Krinsky, Associate Dean for Student Affairs and Communications at the University of Maryland and Immediate-Past Chair of the Board of Trustees of the Law School Admission Council.
I've been involved in legal education (not counting my own three years in law school) for 35 years. (I find this so surprising that, in an abundance of caution, I used a calculator to subtract my start year from 2017 to make sure I hadn't stuck in an extra decade by accident.)
It's hard not to long for the days of high application volumes and a world in which more applicants wanted to come to law school than we could possibly accept. It's also hard not to miss the days prior to email when applicants wrote letters, the days prior to the Internet when there was still a little mystery in our lives.
The applicants of today are both more informed and less informed. They have more information at their fingertips, but it's not necessarily accurate information. It is easy for them to find facts and opinions—much easier than it was 35 years ago—but it seems harder than ever for our students (indeed, perhaps for much of the population) to distinguish between fact and opinion.
For what seemed like a very long time, law school faculty and administrators (and the authors of The Paper Chase and One L) were the source of information about legal education. We were certainly the source of information about admission to law school. That is simply no longer true. Though it sounds like I'm complaining, I believe that more information is a good thing, and that the dramatic increase in sources of information is a positive development. Students are forced to distinguish between good and bad sources of information, to juggle the myriad facts and opinions, and to make decisions for themselves about whether to go to law school, where to go to law school, and what to do afterwards.
Because of the environment in which we all find ourselves—200-plus law schools, but almost 40 percent fewer applicants than in 2010 and almost 50 percent fewer than in 2004—many law school applicants find themselves in a very strong position with respect to admission and scholarships. They are being offered admission at higher rates than was the case a decade ago, and they are (successfully) negotiating on price. That success can make it difficult for them to settle back into what many of us recall as the role of a student. They have become consumers as much as students, and for many, their attention is focused on a cost-benefit analysis.
The rankings barely existed when I entered legal education, and to the extent that they did, little attention was paid to them. Prospective students today have a different definition of "the best law school for me"–one that seems less focused on curriculum and environment, and more focused on price, employment data, and rank. Again, though the change in attitude can be very difficult for those of us who have been involved in legal education for a long time, these students are much more critical of rules, and they are refreshingly willing to challenge the status quo and to engage—exactly what we want them to do.
The combination of the Internet and the rise of the rankings and of critics of legal education has led to another phenomenon that simply didn't exist 35 years ago. There exists a cohort of law students who enroll in whatever school admits them and provides the best economic package for the first year, with the explicit plan to "trade up" at the end of the first year. This is not a development about which I can say anything positive from the perspective of someone who is trying to maintain a community.
The students who make the decision to come to law school are doing so with their eyes wide open. They know what kinds of jobs are out there; they understand what the market is like. They are not attending because they can't think of what else to do, or because a parent told them that they should be a lawyer, or because they think law school is a direct route to riches. There is very little ambivalence. They are attending because they want to acquire the skills that will enable them to do any of the many kinds of work that lawyers do. They are focused, they are engaged, and they are committed.
Kate Kruse: Clinical and Experiential Education
Katherine Kruse, Associate Dean for Academic Affairs and Professor of Law at the Mitchell Hamline School of Law.
When I began as a clinical instructor in 1990, law school clinical programs were a well-established, though not very well-understood, aspect of legal education. There was a general sense that clinics were a good thing for students, because students needed to learn lawyering skills and gain practice experience. But the rest of the law school had very little idea of what actually went on in clinical programs. Moreover, although clinics and externships were, at most schools, upper-level electives in which substantially less than half the student body participated, the presence of clinical programs largely relieved the rest of the faculty from worrying about how to provide students with experiential education.
Much has changed in the past quarter-century. Legal academia has begun to both better understand and more highly value experiential education. The MacCrate and Carnegie reports on legal education emphasized the importance of focusing, not just on acquiring cognitive and analytical skills (the infamous "thinking like a lawyer"), but on mastering practical skills and forming professional identity. The ABA accreditation standards have shifted to an outcome-based framework, forcing law schools to articulate practice-based learning outcomes for all students. Legal publishers have scrambled to provide a diverse array of teaching materials to integrate skills training throughout the law school curriculum. New types of experiential opportunities are cropping up at all stages of law school: first-year lawyering courses, practicum courses, skills labs, service learning projects, and post-graduate incubator programs.
Market pressures have also increased the demand for practice-based experiences. Legal employers have retreated from offering paid employment for new graduates as a de facto apprenticeship system. Law students have increasingly seen that their path to employment will depend not on getting an offer from firms with whom they interview on campus and for whom they clerk over the summer, but from networking more widely in the legal community through a variety of practice-based experiences. In an atmosphere of fierce competition for students, law schools are falling over each other to emphasize the breadth and uniqueness of their experiential offerings.
The fluorescence of experiential education has created new challenges and opportunities for the legal education community. No longer the sole purveyors of experiential education, clinicians have had to more carefully articulate and differentiate the unique benefits of different forms of experiential education: clinics, externships, and simulations. Rather than viewing experiential courses as isolated electives, law schools are beginning to stage their experiential offerings into a systematic progression designed to bridge students to practice. And, an increasing number of law schools mandate clinics or externships as a graduation requirement.
Despite these changes, law still lags far behind other professions in its failure to mandate a substantial period of hands-on training or supervised practice prior to licensure. The nature of law practice is evolving rapidly, creating an inexorable shift away from the importance of knowledge acquisition and toward proficiency across a broader range of interpersonal and professional skills. The bar licensing framework, still based primarily on pencil-and-paper examinations, has yet to confront this shift. Until that changes, the role of experiential education is likely to remain secondary to doctrinal learning. In the meantime, the methods of experiential education are continuing to proliferate in the spaces that legal education is making for them and to develop in sophistication. When the legal profession is ready to require more of law graduates, legal education will be ready to offer it.
Vincent Rougeau: Faculty
Vincent D. Rougeau, Dean at Boston College and member of the AALS Executive Committee.
This past academic year was my 26th in legal education and my sixth as Dean at Boston College Law. From my perspective, I think it is fair to say that American legal education has changed more in the last six or seven years than it has in decades. When I look back on my experiences as a faculty member at Loyola University Chicago in the 1990s and Notre Dame Law School in the 2000s, I remember an environment very similar to one I encountered as a law student in the 1980s. I think it is fair to say that while legal education at that time still benefitted from much of what was excellent about the past, the students I teach now are having an experience that has changed fundamentally in a number of ways.
I first entered law teaching around the time of the release of the MacCrate Report, which essentially argued that American legal education over-emphasized doctrine and needed to offer more instruction on skills and values. I remember an early flurry of discussion (and criticism) in response to the report, but that soon subsided and, frankly, not much changed. There were, of course, a few innovations here and there—particularly the creation of more clinics—but there was no real consensus on the need for any major revisions to the American legal education model.
For the most part, this period saw rising applications to law school and relatively modest attention to tuition costs. Teaching loads fell, publication expectations increased, and many new academic programs were created. There was an expansion of international engagement through LL.M. programs in the U.S. and exchange programs abroad. I look back on it as a very intellectually vibrant period that was accompanied by more than a little bit of political turmoil, and marked profoundly by the tragic events of September 11, 2001.
Fundamental change came in the wake of the Great Recession of 2008-2009. Since then, there has been a surge in attention to skills training and "outcomes," related both to student learning and employment. It is a story that we all have been living for close to a decade now, so the particulars do not need repeating here. What does bear reflection is an important truth that emerged from the difficulties both legal education and the legal profession have encountered over the last several years: No profession, industry, or institution is immune from rapid and destabilizing change. It is not something that we can prepare for in advance—who knows exactly when and how it is coming? Nevertheless, there tend to be early warning signs that should lurch us from complacency.
The MacCrate report was one early signal to legal education that something was amiss. Whatever its failures or missteps, the report correctly sensed a challenge to the status quo that ultimately had to be reckoned with.
Kellye Testy: Engaging with our World
Kellye Y. Testy, President of the Law School Admission Council and AALS Immediate Past President; prior to that appointment she served as Dean at the University of Washington.
The other contributors to President Marcus's feature on current issues in legal education have covered important topics that are undergoing significant evolution within our law schools. While taking note of those distinct areas of change, I will focus my attention here on three significant societal issues with which our schools are and should be engaging. As we welcome the Class of 2020 this fall, several major factors provide critical context for our work and for our students' futures. I focus here on access to justice, technology, and the rule of law. The more we integrate these issues into our schools, the more we will contribute to our students' educations and our service to society.
One of the most salient features external to our law schools, but highly relevant to our work, is the wide access to justice gap in the U.S. (and around the world). I applaud President Marcus for focusing the theme of his presidency on this issue. A June 2017 study by the Legal Services Corporation (LSC) reports that 86 percent of the civil legal problems of low income Americans received no or inadequate legal help. There are 60 million Americans in this category, representing those with incomes at or below 125 percent of the federal poverty level. Even more concerning, these Americans seek legal help for only around 20 percent of their legal problems in the first place, meaning that even for the small number of legal problems for which they seek help, they are usually not getting it. Within this group are millions of seniors, veterans, rural families, persons with disabilities, survivors of domestic violence and sexual assault, and other people without the means to protect their basic rights in critical areas such as health care, education, housing, child custody, and commerce.
The access to justice gap facing the poor in our civil justice system is not confined there. People of moderate means—those who cannot afford legal services but do not qualify for legal aid—are likewise affected. Moreover, widening income inequality in the U.S. means that increasing numbers of poor and moderate means people are left out of our justice system. While there are many charts and statistics measuring income inequality in various ways, and much disagreement about its causes and consequences, there is little dispute that it has widened significantly. The top 1 percent of U.S. adults now earns on average 81 times more than the bottom 50 percent of adults. For comparison, In 1980 that number was 27 times. Income based differences permeate our criminal justice system as well, from the too-heavy caseloads of public defenders to the pernicious effects of legal financial obligations on incarceration rates. Because economic inequality often correlates with other forms of inequality such as racial and gender hierarchies, additional gaps based on those and other demographics are perpetuated in our justice system.
These and other access to justice gaps (including global ones) deserve serious attention in our law schools, attention that should not be limited to students choosing to study poverty law. Rather, we are all responsible for the health of our justice system and for making the promise of equal justice real. When we bring these admittedly challenging issues into our law schools, it opens the door for legal education to play a role in finding solutions. We need new solutions and schools should continue to consider how to help address this gap.
It will not be enough to urge more pro bono efforts or to encourage more students to enter public interest law when funding for public interest positions remains glaringly insufficient. Rather, we need to see additional efforts such as "low-bono" incubators to help graduates launch their own moderate means practices; educational programs for new categories of legal professionals who can supplement services provided by licensed lawyers just as nurses and other medical professionals supplement the work of doctors; innovative uses of technology to leverage the time and expertise of lawyers; and sustained focus on other legal and policy solutions to close the access to justice gap and advance the health of our justice system. Part of that focus should continue to be upon enhancing the accessibility and affordability of legal education so that our graduates have the financial ability to serve those who need their help rather than only those who can afford their help.
Technology is another significant force changing almost everything about our world, from what work we do and how we do it to how we buy our products to how we drive our cars (or how they are driven for us) to how we communicate with our colleagues, families, and friends. No industry or profession has been immune from technology's "better, faster, cheaper" forces, and the legal profession is also experiencing significant changes brought about by technology. The profession our students enter is and will increasingly be one that demands technological literacy and that will continue to operate differently, both in the problems it addresses and the solutions it offers, because of technology's influence. We will better help our students prepare to meet their employers' and their clients' expectations if we are successful in bringing more consideration of technology's influence into our law schools. We must consider not only how technology is changing the methods of lawyering but also how technology is changing our subject areas themselves, changing our legal and political institutions, and changing the very nature of how humans experience the world. Of course, change in technology has always made a difference in these matters, but there is little dispute that the pace of change is now far greater than we have ever experienced and continuing to accelerate.
It is easy to fear technology, especially when the specter of lawyers being replaced by machines is the go-to trope when the subject of technology's influence upon law is addressed. But there is much more to the story and our law schools are bringing this story to light. The innovation and investment in the legal technology business is expanding significantly and moving into our law schools. Many schools now have some form of "law lab" or other hub for this work and it is sparking creativity and engagement and connecting groups in new interdisciplinary configurations. The task will be to make sure that these innovations are tied to the needs of clients and our world—that they are justice-directed innovations rather than the-next-great-gadget form of innovation. Given the access to justice gap noted above, this work has the potential to leverage technology and innovation to help our profession serve more clients more fully, perhaps even helping lawyers devote their time to work they find more fulfilling professionally (or to gaining healthier work/life balances). Moreover, bringing technology more fully into legal education may attract additional students from disciplines such as computer science and engineering (who often do very well on the LSAT!) to help address some of society's most pressing problems arising at the intersections of law and technology.
As for the rule of law, we have all experienced complaints from our students from time to time that law school can be insular, with our classrooms insufficiently connected to the pressing issues of the day. Today, however, it is far more common than in the past for law professors and senior staff to seek to bring the world into our schools, both in classrooms and in co- and extra-curricular activities. While our schools have (and should have) significant diversity of viewpoint among students, staff, and faculty, one common thread is our shared commitment to the rule of law. Surely there are many views about what it means in particular instances and how to best to serve as its guardians. But these questions about the rule of law are exactly the kinds of issues that should be and are being debated fully and respectfully in our schools.
Not only can our law schools bring concerns about the health of the rule in, but they can also take those concerns out to the community, creating and engaging in projects that advance public understanding of law. Many polls today show that public knowledge about law and legal institutions, including very basic concepts such as the names of the three branches of government in the U.S., is quite low. The continued growth of clinics, pro bono projects, street law courses, and other (often student-led) projects that reach outward from the school to engage with communities are excellent examples of how the legal academy can add to the influence we wield through our scholarship and teaching to advance legal knowledge. Increasing public understanding of law not only can help people protect their own rights but can also encourage appreciation of and engagement with democratic institutions that can advance the common good.
Access to justice, technology, and the rule of law are just three examples of significant societal issues and forces that are increasingly being engaged in our law schools. As we increasingly both welcome these forces into our schools and also bring our work more fully back out, we do better by our students, our universities, our communities, and our profession and the world it serves.
To Kellye, Vince, Kate, Barbara, and Susan—Thank you so much for your incisive comments. You have given all of us quite a lot to think about!
Paul