AALS Report Details the Career Pathways, Responsibilities, and Challenges Facing Law School Deans
The COVID-19 pandemic has dramatically changed the focus of law school deans according to the American Law School Dean Study, released by AALS based on a survey by NORC at the University of Chicago.
The percentage of deans who reported some or a lot of time on crisis management increased from 11 percent in 2019 to 88 percent in 2020. Deans reporting some or a lot of time dedicated to diversity, equity, and inclusion efforts increased from 16 percent in 2019 to 79 percent in 2020. Student life and student conduct issues was also a major focus of law school deans with 8 percent reporting they spent some or a lot of time on the issue in 2019 compared to 44 percent in 2020.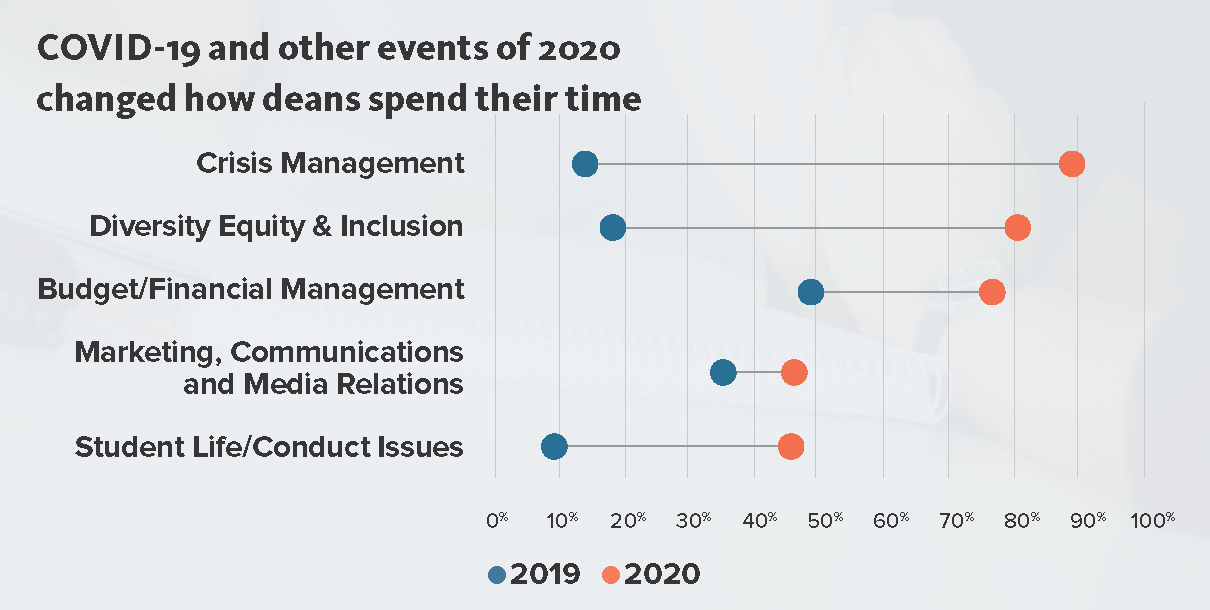 The new study explores how law school deans are recruited and selected, career paths to the deanship, leadership attributes, and the most pressing issues deans currently face. It is based primarily on a survey of law school deans who were serving at AALS member and fee-paid law schools in the spring of 2021 as well as former law deans who served between 2010 and 2020.
"This is the first full-scale study of its kind and comes at a very important time in legal education," said Judith Areen, Executive Director of AALS. "The study's findings will assist law schools and universities in their dean searches and provide guidance to faculty who are considering becoming a dean. We hope this report will contribute to further diversifying the ranks of deans by education, experience, race, ethnicity, gender, and age, and thereby increase the quality of leadership in the nation's law schools."

According to the deans surveyed, the top five attributes that contribute to being a successful dean are: emotional intelligence, good judgement, being a stabilizing force during difficult times, the ability to listen, and integrity. Deans also report that the experiences that are the most helpful in preparing for the deanship are serving as an associate dean and playing a leadership role on a law school committee.

Interviewed as part of the report, Marc Miller, dean of the University of Arizona James E. Rogers College of Law reflected on how the pandemic altered the deanship. "Not only did I need to have the traditional skills of being a manager and understanding budgets and so forth, but I had to innovate in a changed space. Having a good steady hand at the tiller was no longer sufficient to help a law school – any law school – prosper," he said.
The law school deanship has become much more diverse in terms of gender, race and ethnicity. The percentage of women deans has increased from 18 percent in 2005 to 41 percent in 2020. The percentage of deans of color and Hispanic origin increased from 13 percent to 31 percent over the same time period.
The study also found that the majority of law school deans (81 percent) come from law school faculty and nearly two-thirds (62 percent) of successful dean candidacies are initiated by someone other than the candidate themselves.
The project was launched to understand details about law school deans, their career pathways, search and selection processes, duties and responsibilities, and their challenges, and satisfaction with their role. The project is sponsored by the AccessLex Institute, ETS, and the Law School Admission Council (LSAC). The survey produced responses from 154 sitting law school deans and 150 former law school deans at AALS Member and fee-paid law schools.
Additional highlights from the report and ordering information can be found here.