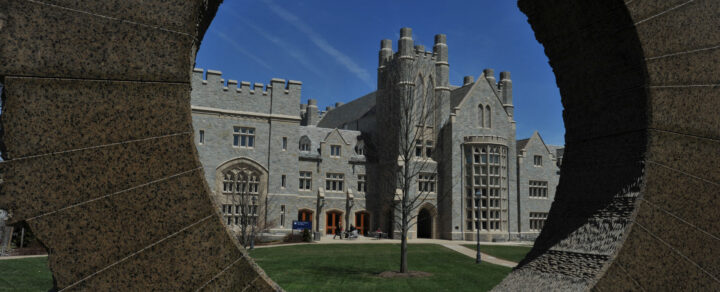 Location: Hartford, CT
Founded: 1921
Joined AALS: 1946
Dean: Eboni S. Nelson
The University of Connecticut School of Law, founded in 1921 and an AALS member since 1946, is a pillar of the state's flagship public university. UConn School of Law has 153 first-year students in its JD program, which has day and evening divisions. It also offers an SJD program and five specialized LLM degrees. UConn School of Law is a pioneer in experiential education, providing 12 clinics and many opportunities for externships, fellowships, and pro bono work. UConn Law takes pride in its distinguished faculty and collegial and supportive community, which celebrates diversity, belonging, and service.
In 2022, the UConn School of Law established a Housing and Eviction Defense Clinic with support from the U.S. Department of Housing and Urban Development and the Connecticut Fair Housing Center. The clinic represents low-income tenants facing eviction. The clinic also builds a pipeline of lawyers prepared to practice housing law by training students. Catharine H. Freeman, a visiting professor from Connecticut Legal Services, directs the clinic with Associated Director Alex West, formerly of SouthCoast Fair Housing.
"The Housing and Eviction Defense Clinic is a great example of the work that we do at the UConn School of Law, helping the community while preparing our students for practice and reinforcing their commitment to justice for all people. We believe the way we support each other on our diverse and inclusive campus, with collegiality and respect, enhances our classroom and clinical teaching. The result is graduates who are ready to advance justice and contribute to a better world," said Dean Eboni S. Nelson.
Please click here if you are interested in viewing the past member highlights.